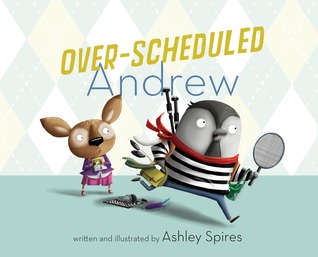 Title: Over-Scheduled Andrew
Author: Ashley Spires
Illustrator: Ashley Spires
Publisher: Random House of Canada Limited
Publication Date: January 12, 2016
I think this would be a great read for kids a little bit older. Maybe 1-2 grade. It is about a young bird who joins the school play. He loves drama class but has difficulty speaking up so his teacher suggests he join debate to help his speaking in public. He gets really got at it and enjoys it.
But once he learns he has to dance for the play and he needs some improvement in that area he joins ballet and karate to help with his coordination while he is still in drama and debate. Then he makes new friends in his club and joins several more clubs until he has not time for fun with his friend Edie or for being good at drama which is how the whole thing started.
He eventually decides which clubs he likes the most and realizes he can't please everyone and still have time to enjoy the things he loves.
This is a very good lesson for older children and the art style is simple but fun.
4 out of 5
Title: Noni Speaks Up
Author: Heather Hartt-Sussman
Illustrated by: Genecieve Cote
Publisher: Random House of Canada Limited
Publication Date:Feb 9, 2016
I wasn't in love with this book or the writing but the message was definitely something that is important for children. Noni does her best to be a good person. She goes out of her way to be nice, even to strangers,
One day she notices her classmates making fun of a boy named Hector just because he is a little different then them. He is tall and has glasses and they make fun of his name.
Noni spends time thinking about why she didn't say anything to help Hector when she loves helping everyone else.
After giving it some serious thought she stands up for Hector and feels better about helping him and doing the right thing.
The illustrations weren't great and again, not a huge fan of the writing but it was pretty good.
3 out of 5
Title: If I had a Gryphon
Author: Vikki Vansickle
Illustrator: Cale Atkinson
Publisher: Random House of Canada Limited
Publication Date: Feb 9, 2016
If the cover of this upcoming children's book isn't enough to draw you in then definitely take my suggestion and pick this up.
It is so fantastical. A young girl gets a hamster and thinks she might want something a little more exciting. As she imagines have a gryphon, a kraken, a Sasquatch and many other exotic pants from the fantasy books she reads she starts to realize that the hamster is actually the perfect pet for her.
The art style is amazing and it has a lot of vibrant colors but also has a bit of a whimsical vintage feel to it.
I think this is one of the best children's books I have read recently and I loved the rhyming pattern. I think this will be a big hit.
5 out of 5
Title: Calling All Cars
Author: Sue Fliess
Illustrator: Sarah Belse
Publisher: Sourcebooks Jabberwocky
Publication Date: March 1, 2016
This was adorable! All little boys or girls who love playing with cars will absolutely love this. Written in a rhyming style we see illustrations of cars of all types and colors and the animals driving them. The art style is very cartoonish but bright and fun and I can see the details really being something that children like and enjoy pointing out.
The fact that the cars are driving by fun animals of all kinds will also be a fun aspect for kids to enjoy.
If you have a child who likes cars and enjoys brightly colored rhyming stories that can be fun over and over again then I definitely suggest this new release.
4 out 5
Title: Good Morning Yoga
Author: Mariam Gates
Illustrator: Sarah Jane Hinder
Publisher: Sounds True Publishing
Publication Date: March 1, 2016
I read this as well as its predecessor, Good Night Yoga, recently and it was fabulous. A great way to start your school age children's day off right. With poses to wake you up and help you start the day off with a good attitude this book can be an awesome part of your morning routine.
As I said I also read, Good Night Yoga, by the same author and illustrator and it is not to be missed either. It is filled with relaxing poses to help kids (and parents) wind down and get ready for bed. Just helps get all the last minute wiggles out of their system and i actually followed along with both and they were were simple but effective.
4 out of 5